Patient Care Instructions
Congratulations!
Your denture has been fitted with an EasySoft liner™ – a soft, comfortable, cushioning material that is permanently attached to your hard, pink acrylic denture base.
Your EasySoft Cushion Comfort liner will ensure the most comfortable fit possible, especially while chewing.
For the first 24 hours after fitting your EasySoft liner™, do not scrub your denture with a toothbrush.
How long will my EasySoft liner™ last?
Your EasySoft liner™ will last longer with careful daily care. Ask your dental professional when is the best time to replace your EasySoft liner™.
Your EasySoft liner™ should be checked by your dental professional at your regularly scheduled re-care appointment.
How can I best care for my EasySoft liner™?
Rinse well under cool to warm running water.
Gently clean with a soft toothbrush and toothpaste. Do not scrub.
Rinse again before returning to mouth.
Your denture should be soaked overnight in plain water.
Some cleansing products may damage your EasySoft liner™!
Do not use standard commercial denture-soaking solution.
Do not use bleach or vinegar.
Consult your dental professional before using any cleanser.
Can my EasySoft liner™ be adjusted?
Yes, however, the adjustment requires specialized instruments and techniques, so it's important that you do not attempt to adjust the EasySoft liner™ yourself.
Testimonial
"We are constantly striving for products that will improve the success of our treatment plans, success in terms of patient acceptance and practitioner ease.
Soft linings for dentures have always been available, but they also came with:
• the unknown fear of porosity,
• poor bonding to acrylic,
• and lengthy time-consuming steps to achieve limited success.
Fear no more, EasySoft liner™ can offer a whole new outlook on this procedure.
A permanent soft polyvinylsiloxane, EasySoft liner™ will provide the answers to a whole host of applications:
• soft lower liners
• gaskets
• aggressive undercuts
• even soft liners for free end partial lower dentures!
EasySoft liner™ offers comfort levels way above any other product due to its ability to remain soft and comfortable in the mouth over extended periods of time.
Simple to trim, incredible adhesion, repairable and sealable to prevent bacterial adhesion.
EasySoft liner™ will solve all the issues that have been encountered in the past. Just think of all the benefits, increased comfort and retention, and an increase in revenue for the Practitioner.
What else could we be asking for? This is the product that will revolutionize the soft liner field, one application will have you convinced.
EasySoft liner™ is the only soft liner product used in my clinic, and I can say for certain that this really does work well."
~ Adrian Haigh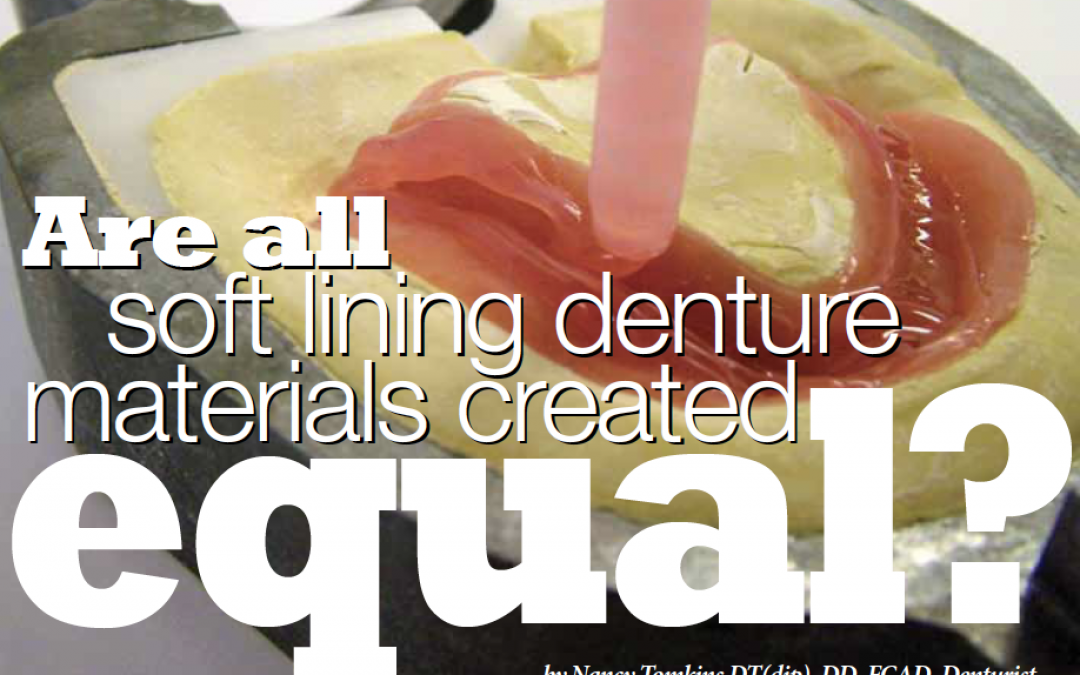 EasySoft does not contain ethyl alcohol or debutyhlphatale. EasySoft will remain permanently soft and will not crack after years of wear. The closed surface structure of EasySoft prevents the build-up of candidas albicans on the tissue bearing surface. This problem has plagued the soft lining industry, until now.